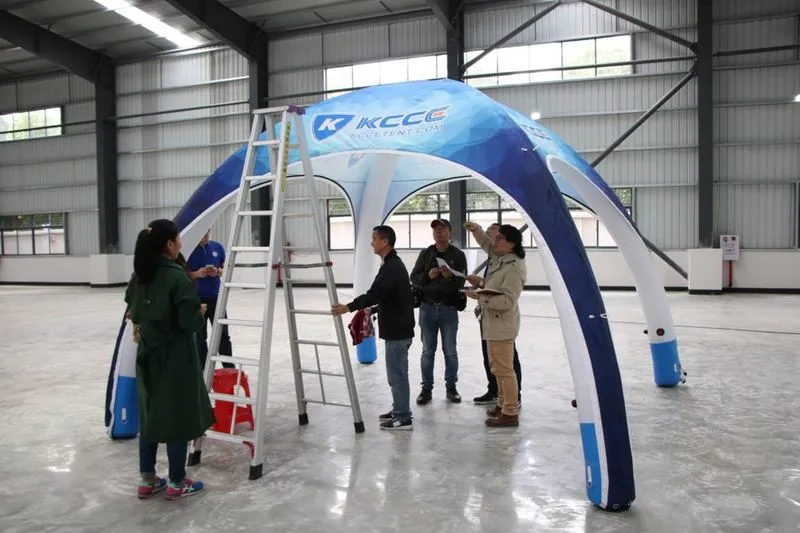 Compared with traditional tents, inflatable marquee tents are lighter in weight, smaller in volume and more convenient in transportation, with many advantages over traditional tents. And one of the key advantages is the inflatable tent can be set up and used simply and conveniently compared with the traditional tents.
The use of inflatable marquee tent is very simple, whether large or small inflatable tent, 1-2 people can install and remove, using the high pressure electric pump to inflate a tent with a size of 60 square meters only need 15 minutes, the inflatable marquee tent itself has a creative, high-quality, so it is suitable for all kinds of outdoor activities as a good shelter for people, etc.
The video
tells us how to set up, first of all open the packed inflatable marquee tent, tiling the ground, and then take out the inside accessories, such as: electric air pump, stakes, ropes, repair kit, tent awnings, tent walls. When everything is ready, find inflating valve on the tube of the tent,attach the electric pump to inflate the tent . open the electric pump switch to start inflating and stop inflating till the inflatable tent completely stand and tubes become hard. (usually the large tent has two valves,when one valve is closed, please check the other one). In the case of strong wind force, the inflatable tent needs to be fixed with the ground stakes and ropes to make sure it is wind against.
Easy to build and easy to dismantle. First remove the stakes and ropes which are hold the inflatable tent. Then open the inflatable valve and let air off till the tent fall down. There is some extra air hard to be deflation, , use the electric pump deflation side to deflate the air from the inflatable marquee tent. Fold the tent as the video and pack it tightly and nicely.
Of course, inflatable marquee tents still have some points need to be careful, being careful is the best way to extend the life of inflatable marquee tents. The terrain must be carefully surveyed before the inflatable tent is erected, and no Rolling Stones, rolling logs or stones should be placed above the camp. Do not set up tents near the river and on dry riverbeds during the rainy season. In addition to prevent lightning strikes, do not put the inflatable marquee tents on the top of mountains or open fields; In the mud or sand installation, you can dig drains around the tent to ensure that the interior of the tent is dry.