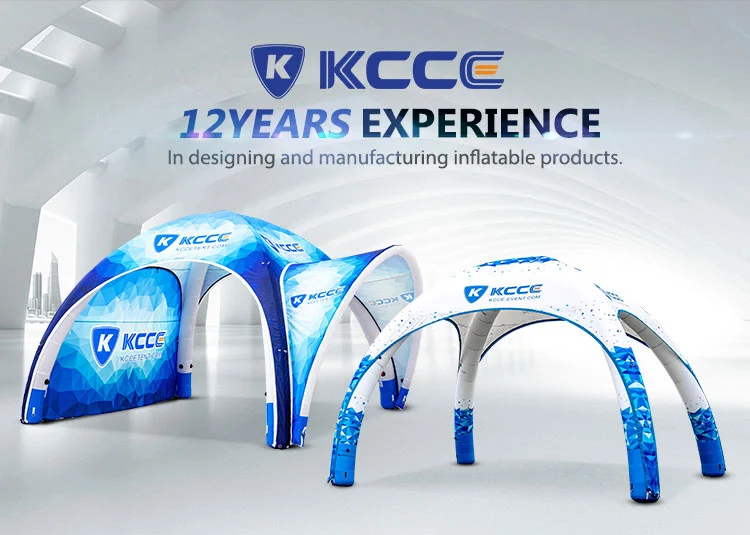 As sales in KCCE they always got the feedback from some clients : your inflatable air domes are really very expensive compared with your competitors, i will not going to buy them from you"
However, once they try, they will see the differences, come and go, finally, they will come back to us.
After 10 years learning and improving, our designers got some conclusions of KCCE inflatable tents and other similar tents on the market.
Below information is always as the inner training and leaning files for sales and designers, they are confidential in KCCE company but now we are going to show all of our clients and competitors.
Comparison with competitors' products
Name
KCCE tent
Competitors' tent
KCCE advantages

Leg fabric
customized fabric
normal market fabric
more professional
industrial silk
normal silk
the strength is double better than that of the other suppliers'

flame retardant
no
Passed CAPI-84, GS 5438
strong hardness
normal hardness
avoid the twisting from bladder and fabric , more flat and nice
strips surface, has dark strips
smooth surface
high level and and quality
TPU bladder
Polyester TPU
Polyester TPU/PVC
environment-friendly,hydrolyze polyester, can suffer more times of water corrode
thickness 0.3mm
thickness 0.12-0.25mm
good airtightness,reduce air leaking
hose
piece
no welding , ensure the airtightness
400D canopy fabric
400D heat resistance fabric/70D rip-stop fabric
210D dacron, 40D Dacron
better strength, more choice
flame retardant coating
no
CAPI-84, GS 5438
waterproof coating
no
1500mm-2000mm
UV resistant
no
50+
70D wall Fabric
400D heat resistance fabric/70D rip-stop fabric
300Ddacron, 40D Dacron
better strength, more choices
flame retardant coating
no
CAPI-84, GS 5438
waterproof coating
no
1500mm-2000mm
UV resistant
no
50+
Zipper
YKK zipper
normal zipper
ensure the better quality
Accessory
4pcs sand/waterbag, 8pcs rope, 8pcs stakes, 1 hand pump, TPU tapes, valves, blower, DC 12V blower, carry bag with customozied Logo
no such more ready accessories
more convenient to anchor and set up the tent
Stitching technology
Name
KCCE tent
Competitors' tent
KCCE advantages
Leg fabric
one straight seam+two zigzag seam
one straigh seam
more strong, more beautiful
each seam with reinforcement glue tape
no
protect the seams parts/reduce the friction from TPU and leg fabric
0.45mm PVC+abrasion resistant bottom
no abrasion resistant bottom
protect the leg bottom from abrasion
Canopy
each seam with waterproof glue strip
no
waterproof
zipper cover inside with elastic strip
no zipper cover or no elastic strip
better waterproof ability
wall
wall can be reversible
not reversible
possible to show the Logo from inside or outside
Priority on Research and design
Name
KCCE tent
Competitors' tent
KCCE advantages
Developing time
2010-2017
just start
7 years dedicate to airtight tent
X tent
the 3rd generation frame
just start
mature in design,high level in qualtiy ,reasonable in frame,convenient in using
Patent
more than 15 patents
no
more professional, more authoritative
New items
every year has new designed products
no
more ideas,more choices for clients, formed a complete event products series
research/customized
clients' idea can be customized
no
have many personal designs from clients
Modularity system
1.each leg can be seperated
2.canopy and leg can be separated
3.Leg fabric and TPU can be separated
4.canopy and wall can be separated
5.tent and tent, awning and connecting cloth can be combined or separatd
only several parts can be combined or separated
smart on exchange and maintenance
airtight system
1.valve
2.fix cap
3.over pressure valve 4. cap with connecting tube 5.air control valve
several items
designed some new molds of valves, to make the products safer, more unique more perfect
LED system
3 kinds of different LED lights, each tueb with a line of plastic hooks to hold the LED light cable invisiblely
few kinds
eye catching and brighten the brand